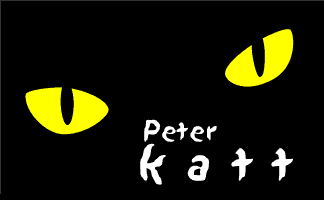 Peter Katt
"Katt's Got Your Tongue"
commercial
narrative
e-learning
audio books
podcasts
telephone
info@peterkattvoice.com
(347) 878-KATT
(+1 347 878 5288)
Like what you've heard?
Please feed the Kitty!
Peter resides in Syracuse, NY and can accommodate clients worldwide from his home studio. His professional attitude is grounded in years of experience in television, theatre and improv. Whether your project involves advertising, narration, e-learning, podcasting, voice acting, telephone or online services, or any voiceover application, you'll be glad "Katt's got your tongue"!
evocative
versatile
reliable
fun to work with
affordable rates to meet almost any budget
Recent Projects
Click the arrow to listen to a sample; click the title to visit the project web site
Storytelling
Nonfiction
The Sciences

(Gatewave.org)
Character Roles